Silk is one of the most popular types of fabric for pillowcases, due to its luxurious feel. In this review, we've done all the work for you when it comes to finding a silk case. We also cover some of the frequently asked questions below.
Why get a silk pillowcase?
What do you need to know when buying silk pillowcases?
What brands make the best silk pillowcases?
What are the advantages of silk pillowcases?
Improves skin and hair health
It has been discovered that silk does miracles for both your hair and skin. The first benefit is that it prevents frizzy, tangled, or bed hair. Additionally, it keeps your skin hydrated and prevents irritation. Moreover, it prevents the formation of wrinkles as well.
Silk is relatively less moisture absorbent compared to most materials, such as cotton, so it does not absorb the natural oils and sebum your hair and skin need to glow. It's also extremely soft, pleasant, and won't abrade your skin when you rub against it, making it a great product for sensitive skin.
Temperature-regulating
Silk absorbs around 30% of its own weight in moisture, making it a moisture-wicking material. Those who sweat heavily at night often find themselves unable to sleep due to this. As you sleep, it will keep you cool and refreshed.
What to keep in mind when buying silk pillowcases
Double-check the quality of silk
Make sure that you are only buying real and 100% pure silk without any mixture or filler materials.
You may find silk pillowcases mixed with rayon, satin, polyester, etc., which could affect the benefits you receive from it. It could also affect the results of any skin or hair improvement regime you may be using.
Coordinate the price and the quality
We recommend that you buy your silk clothes from brands or companies that are transparent about the quality of silk they use. When buying silk products, you should know the size, the kind, the grade, and the weave as a bare minimum.
To determine whether or not the item is being sold at a price that is appropriate to its quality, you need this information.
Best Silk Pillowcases
Slip Pure Silk Pillowcase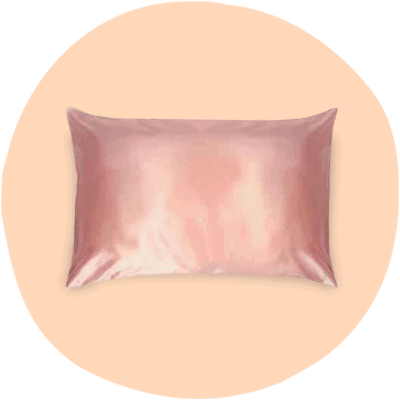 Slip is a brand that offers silk pillowcases, showcasing these items as items that are the secret to celebrity beauty. Their products are meant to keep you looking gorgeous while you're sleeping, preventing frizz damage, ageing, or sleep creases.
These benefits are provided by this. There are many elegant silk colours available – from solid, marbled, and even gradients for aesthetic value. The bed linen is made from the finest silk and constructed to be more of a beauty product than a bed linen.
Furthermore, it is made from 100% mulberry silk, which has been developed, refined, and improved for more than a decade to ensure the maximum benefits not just in terms of skin and hair care but also in terms of lustre, shine, and durability.
Audley Pure Silk Oxford Pillowcase
The White Company has been producing simple and classic home goods for over 25 years. They prioritize quality over quantity, and you can expect the same from this item.
Made of 19 momme 100% mulberry silk, this pillow offers a remarkably soft and smooth sleeping surface. In this case, 19 mommes mean 45 inches by 100 yards, which is the perfect weave of silk that delivers a balanced aesthetic and durable result.
Additionally, it prevents the formation of wrinkles by retaining moisture for the hair and the face. A seamed edge further reinforces the durability of these products. Combined with the silk fabric, the extra border ensures that you get your money's worth out of this product.
This Is Silk Snow White Silk Pillowcase
Independent Magazine has recognized this pillowcase as being the smoothest and silkiest made from the highest quality silk. This product is best suited to those with sensitive skin.
As a result of its softness and lustrous appearance, it doesn't irritate your skin and helps it retain moisture. Moreover, it also allows your facial serums and creams to penetrate your pores and work their magic while you sleep.
Additionally, it is available in two styles: envelope and zipper. In terms of maintenance, you can choose whichever construction is more convenient and comfortable for you. Being sensitive to harmful odors and chemicals, I also appreciate the fact that this product is OEKO-Tex certified.
John Lewis & Partners Ultimate Silk Pillowcase
John Lewis & Partners (formerly John Lewis), is a well-trusted brand that has department stores all over Great Britain. It provides high-end and luxury goods for fashion, electricals, and even home essentials.
There are 13 elegant colors available in this silk case that looks even more luxurious in the silky and shiny fabric. Mulberry silk, which is naturally temperature-regulating, is used to keep your head cool and fresh throughout the night.
Due to mulberry silk's hypoallergenic properties, it prevents dust mites or allergies from taking over your sleeping environment. In addition, mulberry silk retains moisture throughout the night, which makes it great for maintaining healthy hair and relieving skin irritation.
M&S Pure Silk Pillowcase
Mark & Spencer is a British retailer of clothing, food, and household items. It was founded in 1884 and has over 100 years of experience and expertise under its belt.
This silk pillowcase made from 100% pure silk ensures a silky and soft sleeping surface while ensuring your face and hair are taken care of while asleep. Besides being hotel-quality, it also has silk's other benefits, such as temperature regulation and hypoallergenic properties.
The product is also available in four classic colours: white, soft pink, light grey, and mink. I also appreciate the fact that it has low maintenance as it can easily be popped in the machine for immediate freshness.