Best Boxed Mattress gives independent expert recommendations for the vast e-commerce bed landscape. (obsessive) Editors independently select every product and check reviews online from TrustPilot and other sources. The things you buy through our links may earn us a commission and support us making great content. We update links when possible, but note that deals can expire and all prices are subject to change.
Most people would like to sleep better. Most people would like to sleep on the best mattress in the world. Sadly, the best mattress in the world is not found on the high street, so people have to search for it. The truth is that there are many companies out there that will extort you for your hard-earned money and deliver an awful product. For that reason, I have put together this comprehensive list of the best mattress in a box on the market today.
Once you have tried the comfort of a mattress in a box, you will never go back to the old way of buying a mattress ever again.
Nectar (Best Trial period)
Nectar is an online-only company with a truly amazing 365 day trial period. They initially launched in 2017 in America and came to market in the UK in 2018.
The Nectar mattress is Certi-Pur certified so its chemically free, which is excellent for yourself or children. Being certified, you will find minimal off-gassing and smell coming off the mattress when first opening it.
Nectar seems to go above a beyond in their service. They deliver your mattress to your room which is great if it's king-sized and there are stairs, plus they take away your old mattress (if you want them too).
Emma Original (Most Awards)
Emma Original is a tried and tested mattress with 29 awards won, over 20 different countries, and over 400,000 people sleeping on an Emma bed.
The three-foam structure made up of responsive foam, memory foam, and high-density polyfoam gives a medium-firm feel 6/10 great for side sleepers and people who don't want to sink into their foam mattress.
Emma lets you sleep easy with a 200 night risk free trail so you'll know if the bed fits your sleeping preferences. Emma Original mattress has won the most awards of any mattress in the UK market and it's clear to see why with their outstanding quality.
Noa Mattress (Best Value)
The Noa mattress is our best value pick. Why? It's competitively priced for a cheap memory foam or low-quality mattress, which isn't a low-quality mattress.
Noa is a hybrid mattress with AirCell foam, cooling gel memory foam, supportive pocket springs and edge support. The top is hand-tufted, Tencel poly-knit fabric that's great for hypogenic properties and comfort. Also, all the materials are OEKO-TEX and REACH certified. Meaning it's free from nasty and harmful materials.
With this mattress, you get a 100-night sleep trial, so you'll have plenty of time to try it out. Noa is relatively new to the UK. However, they are a very well-known brand in Australia and Canada. If your looking for comfort at an affordable price, then consider getting a Noa mattress.
Simba Hybrid (Excellent Support)
The perfect balance between support and comfort, Simba is a 5 layered hybrid mattress with memory foam and micro pocket springs.
The layers and unique combination of 2,500 conical pocket springs give the mattress firmness and support (5/10) no matter your sleeping position.
Simba lets their customers have a 200-night trial period, is UK made, offer 0% finance, and have a patterned spring design.
OTTY (Best Responsiveness)
The OTTY mattress is a five-layer hybrid bed meaning it has a combination of foam and springs. Surprisingly it's one of the cheapest 'branded' bed-in-a-box companies. However, never is this reflected in the quality or sleep experience.
OTTY has full lengthy springs instead of micro springs most hybrid mattresses offer; this gives the bed responsiveness and support.
With OTTY, you get a 100-night sleep trial. The firmness of the mattress is 7/10 and offers a pushback when sleeping on the bed. Which a lot of sleepers love, making it better for people who want a firmer mattress.
Casper (Highest Reviews)
Casper has one of the best scores from customers on Amazon and Trustpilot and Which awarded the Casper mattress the Best Buy in 2019.
The Casper mattress is made up of 4 layers that give a combination of sinkage and pushback, providing an excellent cradle for your body. All the foam layers combined give the mattress a slightly firmer feel than a standard bed in a box (6.5/10).
Casper has a 100 night trial period where you can decide if the mattress is right for you and if you don't like it you can return it for free within the 100 nights. However, based on the reviews and quality of the bed, we know you'll love it.
Eve Original (UK made)
Looking for a mattress manufactured and retailed in the UK? Then the Eve Original mattress fits the category plus sleepers say it's "the world's most comfortable mattress".
Eve Original had 10 years in the development stage before being available to purchase, and we can see why! The Eve Original is made up of 3 layers of advanced foam designed by Eve for a better nights sleep. Overall, the bed has a medium firmness 5.5/10 which most people prefer.
Eve offers a greatly extended trial period of 200 nights to test if the bed is right for you. This mattress is excellent for people wanting a featured-packed mattress with a stylish yellow design and low pricing.
Ergoflex (Best for Back Pain)
Ergoflex is a 5-layer sleep system that is known for quality and is excellent for back pain. Ergoflex started in 2006 and paved the way for the mattress in a box here in the United Kingdom.
Ergoflex is a trusted brand with a 10-year warranty because they started in 2006 its also been tried and tested, unlike newer bed in a box brands.
If you have back pain Ergoflex could be the mattress for you, the back doctor and countless others recommend it for back pain, which is a common thread in all the 5-star reviews.
Tempur (Amazing Comfort)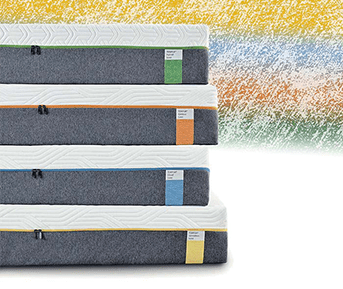 Tempur mattresses are one of the most known and highest rated brands in the UK and globally. Their material composition "secret formula" was first developed 30 years ago by NASA scientists to support astronauts from takeoff, unknowingly that was when Tempur was firstborn.
You can get the Tempur mattress in four models; Tempur Original, Tempur Cloud, Tempur Hybrid mattress and Tempur Sensation and with three versions of each model.
Tempur prices are higher than the latest British mattress brands that are disrupting the industry.
Partner disturbance or more bounce?
You generally can't have one and the other. If your mattress has more bounce and responsiveness that will mean motion will pass through it more naturally.
And the opposite is true if you have a mattress that absorbs the motion, you will have less bounce.
Mattresses that tend to have more bounce are:
Beds with latex
Designed to be more responsive
Mattresses that won't wake up your partner… or them wake you up
Individual pocket coils
Memory foam
Medium-firm picks will all have good "motion isolation." But remember, these models could be less comfortable for a restless sleeper, because there's little forgiveness against one's movements.
Determine your budget
One of the best things about purchasing a mattress in a box is that you save a lot of money. Only a few years ago you would have to go drive to the store, get sold by the salesman, end up overpaying for a mediocre mattress, and lug it home.
Today, you can look through different mattress brands from the comfort of your home, find out what mattress fits you the best, order it straight to your door, while getting the best deal from the manufacture!
The mattress in a box revolutionised the industry that's for certain. But what does that mean for your budget? Well your not going to be paying the incredibly inflated retail store prices with markups often 300 -1000%.
Mattresses that are more money doesn't always mean a better bed, especially when you take into account what they need to add onto the price to cover standard operating costs.
Online bed companies remove the need for the markup and deliver a high-quality product for less.
Setting a modest budget, you can get a great bed.
The average price for a single is £350, and the average cost for a double is £450 – £520. But, there's usually a coupon or offer when purchasing a new bed so make sure you check our Latest Deal links above to see what currently is on offer.
A few steps to remember with your mattress budget
1// price doesn't always equal quality.
2// £500 budget is ideal; this will generally give you a wide variety of options to fit your sleeping style.
3// Choosing a bigger bed will mean a bigger budget. The price doesn't leap up with each size. However, you will be paying more because the use of material from a single to a king is double.
4// Don't go very cheap, spending less than £300 for a double isn't a perfect indicator of quality but it does give an indication. The mattress could have higher toxicity of chemicals, lower-quality materials, and lower durability.
Remember mattresses should last 8-10 years so if your new bed costs £500 over 10 years that's £0.14 a day. Don't cut corners on your mattress! Your sleep and health are worth more than 14p a day.