In our Nectar mattress review, we cover the only mattress in a box company to offer a 365-day trial and lifetime warranty. Nectar started in America in 2017 and quickly came to the UK market in 2018. An excellent feature Nectar has is that its Certi-Pur certified, so it's free from harmful chemicals which benefit adults and children.
Being certified, you will find minimal off-gassing and smell coming off the mattress when first opening it and Nectar is the UK's first 100% climate-neutral 'bed in a box' mattress. Nectar mattress will give you a great nights sleep and peace of mind in the quality of the materials used along with the extended trial period.
What other people say – 4.5/5 from 2,840 + reviews
🏆 Quick facts – Why get it?
🔥 Don't fear the commitment, with our 365-night sleep trial, you can make sure Nectar is the right fit for you.
😁 Lifetime warranty – Say goodbye to restless nights and sagging mattresses, Nectar is designed to last.
✅ Anticipate a better night's sleep with Nectar's multi-layer memory foam design.
😴 Clinical trials have shown Nectar's design leads to reduced tossing and turning for a more peaceful sleep.
How We Review
We give unbiased reviews mattresses no matter the brand. In this Nectar mattress review, we look through independent review websites as well as real customer reviews. We then checked the price, shipping, warranty, trail length, materials, and much more on the manufactures website. By the close, you will know if the Nectar mattress is right for you.
"I suffer chronic back pain, have tried every mattress, spent a fortune all the top brand sent quite a few back before the trial date was over. I just knew they was not for me, but when I got Nectar Mattress, it was heaven the first night; I thought this is too good to be true but nearly a year on, I still love it. Don't get me wrong, I have bad nights sometimes but that's my condition after years and years of no comfort to getting this mattress, it was like my prayers have been answered. Will buy another Nectar, no need for any more trials. Thank you for giving me some sleep after years of none" June
60% Off
Nectar Discount Voucher Code
Summer Sale 60% Off Selected Mattresses + Free Delivery | T&Cs apply.
What's the Nectar mattress made from?
The Nectar is an all-foam mattress, and generally, memory foam mattresses run hotter than non-memory foam beds that's how the bed contours to your body. Nectar understands this, so the materials allow heat dispersion and moisture-wicking properties.
Three layers make up the bed. The top layer is smart memory foam, the middle layer is pressure-relieving memory foam, and the bottom layer is the 7 Zone Supportive Base. All the layers are Certi-Pur certified and 100% climate-neutral.
Also, the cover is temperature regulating to counteract the memory foam further. Let's have a more in-depth look at the materials used.
Smart Memory Foam – Nectar designed the top comfort layer to be 30 times more breathable than regular memory foam. This open cell technology helps dissipate heat, moisture and regulates your body temperature better than traditional memory foam.
Pressure Relieving Memory Foam – After the top comfort layer, you have the transitional layer which is designed to respond to pressure. The middle layer has a somewhat instant response to pressure which helps to relieve pressure points and supporting the spine.
7 Zone Supportive Base – Last but not least, we have the supportive base layer gives durability and support to the bed. Nectar made the layer castellated, which means it has grooves cut out for the shoulder and hips; this allows them to sink deeper into the mattress for proper spinal alignment. As an added benefit, it allows more airflow through the mattress.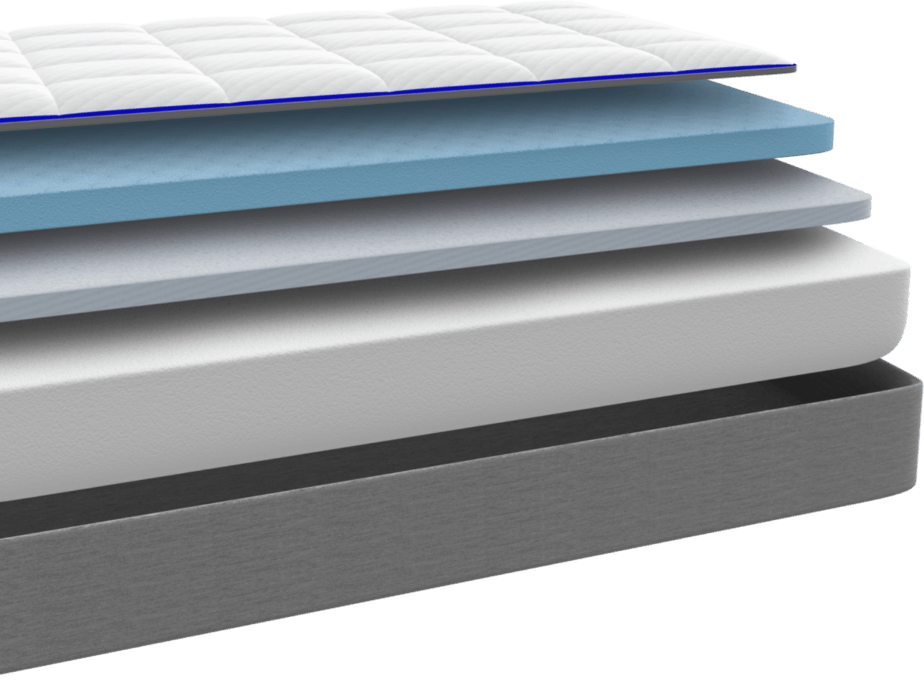 Adaptive Cooling Cover – Nectars cover is an adaptive® cooling cover that draws heat away from your body independently from the bed and allows maximum airflow. Adaptive® is a smart textile technology that enables textiles to react to environmental changes like heat and moisture levels. Especially useful if you and your partner share a bed so your body can rest at the temperature it naturally requires.
The cover visibly has two sections the top quilted cover is a Tencel cotton mix, that gives you the plush pleasant feeling to the skin. Below is the grey panel with the Nectar branding; this part of the cover is more durable to stop any tears and has non-slip elements.
You can unzip the cover easily for washing. However, it's not advised to machine wash the cover because of the delicate Tencel fibres. To get rid of a stain, use mild detergent, warm water, with a regular rag or towel in a spot cleaning fashion.
If you're buying Nectar for a child, you might consider getting a mattress protector that's 100% waterproof. You can find them at most department stores and on Amazon (we will have a guide soon). Mattress protectors usually make the bed feel firmer, but at least the mattress itself will not pick up any stains.
Dimensions and weight
Below is a table of the different sizes and thickness of each dimension.
| Style | Dimensions | Weight |
| --- | --- | --- |
| Single | 190 x 90 x 25cm | – |
| Small Double | 190 x 120 x 25cm | – |
| Double | 190 x 135 x 25cm | – |
| King | 200 x 150 x 25cm | – |
| Super King | 200 x 180 x 25cm | – |
Weight limit
According to the information available on the Nectar Sleep website, their mattress has a weight limit of 500 pounds (227 kilograms).
This weight limit applies to both the single sleeper and the combined weight of two sleepers. It's important to note that this weight limit is for the mattress alone and does not include any other items placed on the bed such as bedding, pillows, or other sleep accessories.
The Nectar Sleep mattress is designed to provide a supportive and comfortable sleep surface for individuals up to 227 Kg, ensuring that all sleepers can enjoy the benefits of a high-quality mattress.
Delivery, Trial, Warranty, & Unboxing
Delivery – Nectar is free delivery and even go the extra mile. Most mattress in a box companies deliver the bed to your door, but Nectar will deliver it to the room of your choosing, which is handy if there are stairs and you're by yourself.
Trail – The Nectar mattress has the longest trial period out of every bed we have reviewed or seen online. Nectar offers a 365-night trial! So you can rest assured when purchasing your mattress in the return policy.
Warranty – When purchasing your Nectar mattress, you can rest easy knowing there's a Lifetime warranty.
What's the mattress like to sleep on?
The Nectar Mattress feels like you are being cuddled to sleep because of the deep contouring of the three layers of memory foam that make up the bed. However, the bed is slightly firmer than most memory foam mattresses.
Edge support – Nectar Mattress does sink when you sit on or sleep near the edge. However, this mattress performs better compared to other foam mattresses as far as edge support is concerned.
Firmness – Because of the three layers of memory foam, the Nectar Mattress has a unique type of firmness that is slightly different from other memory foam mattresses. When you lay on top of the mattress, it takes about 6 seconds before it softens and the layer of memory foam to form an outline around your body shape.
Partner disturbance – What you will find with most memory foam mattresses is that they offer excellent motion isolation and minimal partner disturbance and Nectar mattress is no different. If your partner tends to move continually, whether they are rolling over get up, or switching sleeping positions, then consider getting a memory foam mattress.
What's the cost?
In our Nectar mattress review, we compared the pricing to other similar brands and found the bed to be slightly more expensive than the competition. However, there could be current deals on, to check and take advantage of the deals please click on the 'Claim Deal' button.
| Nectar Mattress Prices | |
| --- | --- |
| UK Single | £599 |
| Small Double | £699 |
| UK Double | £699 |
| UK King | £799 |
| Super King | £899 |
60% Off
Nectar Discount Voucher Code
Summer Sale 60% Off Selected Mattresses + Free Delivery | T&Cs apply.
"Only had it for a few months, however, the sleep has been great and very comfortable. Peace of mind that if any issues I have a lifetime warranty plus trial for 365 nights" Raj
Bonus included
Risk-Free 365 Night Sleep Trial
Lifetime Warranty
Delivered in a Box For Free
Hassle-Free Returns
Is the Nectar mattress right for you?
We have covered a lot of digestible information; however, is the mattress right for you? The overall feel is medium-firm (6.5/10) while still allowing the embrace of the memory foam, which is excellent for back and side sleepers.
The Nectar is firmer than the standard memory foam, but if you don't like memory foam mattresses, then this bed isn't for you. I would go with a hybrid mattress like the OTTY or Simba.
Yet, there is a 365-day trial, so you have plenty of time to test the mattress out and see if you love it or not.
I would recommend the Nectar mattress to sleepers if:
You love memory foam mattresses – The hugging feeling of the memory foam is second to none and without the drawbacks of getting too hot, thanks to the technology put into the bed.
You like medium-firm firmness – Most people like a medium-firm mattress and Nectar is around 6.5/10 in comparison to other bed in a box brands.
UK Made – Nectar mattress originated in the USA, but all the UK mattress are made in the UK.
Chemical-free – CertiPUR certifies Nectar, so there are no harmful chemicals in the mattress like mercury or lead.
Is the Eve mattress good for back pain? From the Nectar mattress reviews, we found online the bed has been great for people with back pain. This can be chalked up to the 7 zone ergonomic support that alleviates pressure from the shoulders, hips and aligns the spine while sleeping.
In the end, we found the Nectar mattress to offer some impressive and unique stats like climate neutral, 365 nights trial period, and the lifetime warranty. The bed also has been designed and developed to reduce heat, wick moisture away and give you a better nights sleep. The Nectar mattress will provide you with peace of mind and an excellent nights sleep.
60% Off
Nectar Discount Voucher Code
Summer Sale 60% Off Selected Mattresses + Free Delivery | T&Cs apply.
Nectar mattress videos
Nectar vs
Nectar Mattress Review
Nectar is the only company in the industry offering a 365-day trial and lifetime warranty. The company started in the US in 2017 and in 2018 quickly expanded its UK operation. Nectar has the benefit of being Certi-Pur certified, so it is free from harmful chemicals and is beneficial to both adults and children. Nectar's claims are that it is the UK's first 100% climate-neutral 'bed in a box' mattress. Overall, it's one of the best mattresses you can find online.
365-night risk-free trial
Lifetime warranty
Free delivery and returns 2-man delivery and set-up
Free old mattress removal
2-man delivery and set-up
UK made
Cover not machine washable
Lack of EU sizes available